Death Camp Watch:


Custody Victims
Lost Within the Tennessee
Department of Childrens Services
For we wrestle not against flesh and blood, but against principalities, against powers, against the rulers of darkness of this world, against spirtual wickedness in high places ---Ephesians 6:12.
Dedicated to past, present, and future victims
(both children and their families)
of both the
TENNESSEE DEPARTMENT OF CHILDRENS SERVICES
and the
TENNESSEE DEPARTMENT OF HUMAN SERVICES.
Willkommen! - Diese Seite ist jetzt im Bau. Bitte kommen Sie später vorbei!
Greetings:
This web site is collecting information regarding the abuses that Tennessee children placed in state foster care [or more accurately, individually farmed out as revenue sources to various for-profit agencies]as directed by the Tennessee Children Services, Tennessee Department of Human Services, and all too often, your local judges. If you are a parent in Tennessee, you need to understand one very important point: if one of these aforementioned state agencies can classify your offspring as a "special needs" child (that is to say an alledged victim of physical, emotional, or sexual abuse), these various State of Tennessee child "protective" agencies can receive up to four times the amount of federal grant dollars as they can receive for the maintenance of otherwise unclassified foster children. So think about that the next time you are thinking about disciplining your child in a public place.
A second item to consider (and not seen mentioned by established news media) is the fact that homosexuals are often employeed as "social workers" operating with no civil liability incurred by the breaking up natural families with a mother and father and later placing these foster children with single parents in Tennessee.
Reminiscent of the Salem witch trials, the now defunct Tennessee Home for Children, and perhaps more closely with the former Soviet Russian prison system, these state agencies use highly questionable methods (and unethical) of "psychological testing" in order to "prove the guilt" of alleged sexual offenders. Considering that parents charged with committing sexual crimes against children are routinely subjected to a non-voluntary battery of pseudo-psychological testing often involving the forced viewing of hard-core pornography and revealing very personal details under duress (most often based on the state-hired examiners "fishing" for damaging profile characteristics or simply to find information that will embarrass or intimidate the acccused and their families at trial) about their marital relationship and other perverted inquiries into the lives of these same parents.
Strangely, the State of Tennessee does not perform the same test for the various social workers (including doctors, psychologists, therapists, foster care parents, etc.). State law should be passed requiring that these same employees of these child protective agencies be required to undergo the same batteries of psychological-sexual testing and that the results of the state and the various private contracting agency employees be accessible as public records.
Although I am not a parent, I have had occassion to witness these sick bastards with the Tennessee Childrens Services and the Tennessee Department of Human Services perform great evils upon Tennesseean families for their thirty pieces of silver. I feel that more than just "reform" is needed. The fox is guarding the hen house-your kids are not safe from the State of Tennessee.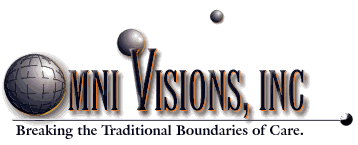 New Info *** March 12, 2000 ***
Omni Visions, Inc. to Hire a "Resource Coordinator"
for the Greeneville, Tennessee Area:
Outdoor $kills and Experience are a Plus.
Omni Visions, Inc. is advertising in the March 12, 2000 edition of the Johnson City Press for a "Resource Coordinator" to be working within the Greene County, Tennessee area. The Omni Visions, Inc. classifed ad is seeking the ideal candidate with a "...minimum of a bachelor's degree in a related field and experience with children and youth." This advertisement is published less than a month following the February 16, 2000 Associated Press article by Angela K. Brown, 'Agency acts after teen dies', as published within the Johnson City Press wherein Omni visions, Inc. President James M. Henry is quoted as stating that he had "...suspended the programs while a state investigation continues..." into the January 2000 death of 17-year-old Omni Visions, Inc. ward Adora Grae Stout during a winter outdoor "boot camp" experience.
Does this classified advertisement by Omni Vision, Inc. mean that the current state investigation is now complete and that finally the details of the state investigation will be made available to the public?

This web site is posted in response to the following AP article appearing within the January 15, 2000 edition of the Johnson City Press that raises more than a few unanswered questions about the safety of Tennessee's foster children:
1) Why did the Washington County Sheriff's Department deputies refer to the investigation scene as a "boot camp", and;
2) why were there two minor children alone with the two Omni Visions employees at an outdoor camp during the middle of winter;
3) why were these minors placed within an outdoor "boot camp" setting during the the occasion of the news media described "...worst influenza pandemic since 1918", and;
4) are local and state authorities covering up details?
State says juvenile boot camps not allowed;
action may be taken against child welfare agency
By the Associated Press

JOHNSON CITY, Tenn. — The state may take action against a child welfare agency if it was running a boot camp when a teen-ager died, officials say.

The state contracts with various agencies to provide services for the 12,000 children in state custody, but boot camps or other punishment-based programs are not allowed, according to the Tennessee Department of Children's Services.

Omni Visions Inc., an agency that works with foster children, was using a Johnson City campground when 17-year-old Adora Grae Stout died last weekend. Local authorities termed it a "boot camp" because of the tents and activities there.

"We don't contract for or use boot camps ... because they're very controversial," said Lisa Faehl, director of resource management for the state Department of Children's Services. "If they (Omni Visions) violated an aspect of their contract, we could (take action)."

Authorities were called Jan. 8 to Buffalo Mountain Camp, where a teen-age girl appeared to be in cardiac arrest, said Washington County Sheriff Fred Phillips. Stout was taken by medical helicopter to a local hospital, where she died the next day.

Phillips said it appeared only one other teen and two adult supervisors were there at the time, but said he could not comment on what they were doing.

An autopsy was ordered after Stout's cause of death was listed as "suspicious, unusual or unnatural," District Attorney Joe Crumley said. Results will not be available for several weeks.

Officials with the Tennessee Bureau of Investigation, which is handling the case, have declined to comment.

In a statement, Omni Visions president James M. Henry expressed "sympathy to all the individuals that have been affected by this situation." He said he could not comment on the incident but that his agency is cooperating with the TBI.

Phillips and Crumley said they had never heard of Omni Visions before Stout's death.

But Faehl said Omni Visions has " an excellent record" and has maintained licensing requirements with the state, which does three different checks annually on such agencies.

Omni Visions was founded in 1991 and has administrative offices in Nashville, Memphis and Knoxville. It provides therapeutic foster care and other family support services to about 400 children across the state. Programs are developed based on a child's individual needs, according to the statement by Omni Visions.

"They're one of our most creative agencies," Faehl said.

Stout, a dark-eyed, dark-haired beauty, was buried Thursday at Mountain View Cemetery in Bristol. About two dozen flower arrangements surrounded the white casket covered in pink roses and white carnations.

The Rev. Elmer Beaver, who delivered the eulogy, later said the teen had attended his church in Mosheim several years ago with her foster mother. He said he did not know how long or why she was in foster care.

Linda O'Neal, executive director of the Tennessee Commission on Children and Youth, said it's too early to tell if Stout's death was related to activities at the camp. O' Neal said a 1998 survey shows 95 percent of children in state custody are safe [therefore, 5% or 600 of these children are in danger by state provided estimates].

"It is very tragic and very troubling any time a child dies ," O'Neal said.


Links: Are You Beginning to Feel
Very "Anti-Social Worker" Yet?
What Is Wrong:
What You Must Do:
Contact: Honorable Joe Crumley District Attorney General
Washington County Courthouse
P.O. Box 38
Jonesborough, TN 37659
Phone: (423) 753-5020
Fax: (423) 753-4803
AA: Diane Mooney
VWC: Gary Harrell
E-mail/Join Forces
Last Updated 2000.03.18
Bob the Reformer
"Flash?---I Don't Need No Stinkin' Flash!"